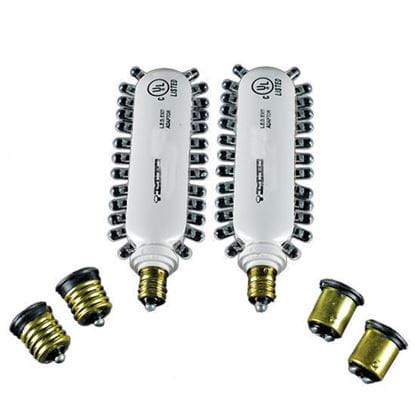 LKM965

COLOR: RED
4-7/8 in M.O.L.
30 Year Warranty
120V ONLY
REPLACE 2-20W INCANDESCENT WITH 2-1.2W LED AND SAVE 94% ENERGY.
CANDEALBRA BASE - ALSO INCLUDES ADAPTERS FOR DCB AND INTERMEDIATE
LKL965

COLOR: RED
4-7/8 in M.O.L.
20 Year Warranty
120V ONLY
REPLACE 2-20W INCANDESCENT WITH 2-1.2W LED AND SAVE 94% ENERGY.
CANDEALBRA BASE - ALSO INCLUDES ADAPTERS FOR DCB AND INTERMEDIATE
Convert your old incandescent exit sign fixture to advanced energy efficient LED technology just by changing bulbs! This LED exit sign retrofit kit replaces 20-watt incandescent lamps with 1.2-watt LED lamps, which will give you 94 percent energy savings. Get a fixture upgrade with an amazing 20-year or 30-year warranty, and you'll never have to change another exit sign light bulb. These LED exit sign retrofit kits are part of our Xtreme Duty™ line of lighting products, designed for the high-end market of discriminating customers and businesses that require the very best in lighting technology.
Why Buy a Retrofit Kit?
An LED retrofit kit lets you take full advantage of the newest cost-saving technology without the time and expense of having to change your light fixtures. Whether you wish to retain the vintage feel of older fixtures or you just don't want the added cost of purchasing new fixtures for your facility and having to find an installer, a retrofit kit makes perfect sense. They're cost-effective and simple to use.
What's Included in the LED Retrofit Kit?
Our exit sign LED retrofit kit includes two 1.2-watt LED bulbs with candelabra plus adapters for DCB and intermediate bases.
MEBULBS for Lighting Expertise and Quality Service
MEBULBS was founded in 1974, so we have many years of experience in the lighting industry. We've seen a steady stream of newer, more efficient technologies, and we offer every new lighting solution to our customers. Our deep knowledge of lighting qualifies us to provide expert advice as to which of these lighting products would best fit your needs and budget. Let our customer service representatives assist you with your order. We guarantee 100 percent customer satisfaction!