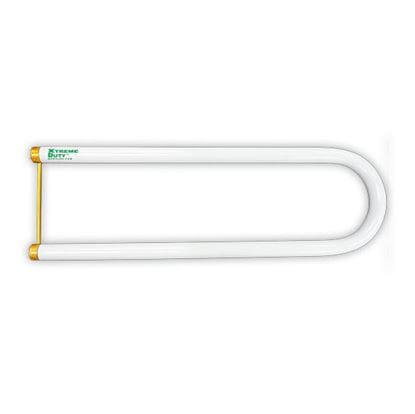 UPX125
COLOR: ALPINEWITE 5000K
APPEARANCE: BRIGHTER WHITER
5 Year Warranty
4444 SEEABLE Lumens
UNDER 7% LUMEN LOSS
23 INCH M.O.L.
BASE; MINI BI-PIN
Do you have limited space and no room for 4-foot or 8-foot T8 fluorescents? U-shaped fluorescent lamps are an attractive option. These T8 U-BEND fluorescent bulbs with 6-inch leg spacing packs the same amount of high-quality light into a smaller space. They use similar types of bays and troffers and are appropriate for residential or commercial applications. What's more, our U-BEND lighting is part of our Xtreme Duty™ collection and uses Xtrabrite color for the whitest, brightest light possible. This heavy-duty T8 bulb is guaranteed for 5 years, and we also have it available in a warmer cool white color.
The Benefits of Fluorescent Lighting
Fluorescent bulbs are more energy efficient than traditional incandescent bulbs, saving you 25 to 30 percent in energy usage (and costs). They give off less heat than an incandescent bulb, which will save homeowners and businesses money on summer cooling costs. They also have a 10,000-hour lifespan, compared to just 1,00 hours for an incandescent lamp. This is a big benefit, especially in larger facilities. Since you won't have to replace them as often, you'll save money on maintenance costs. It's also more convenient for lights that are in less accessible locations.
MEBULBS for Quality Lighting for All Budgets
Since 1974, MEBULBS has been a leading provider of quality light bulbs for residential and commercial customers. We offer three product lines that are designed to fit the needs and budgets of homeowners and companies. Our residential lighting line is similar to, but better than what you'd find in a big box store. The light commercial line is designed for companies such as retail stores, office buildings and doctors' offices. Our Xtreme Duty line is made for the most challenging lighting installations in warehouses, factories, hospitals and other high-use locations. We have expert staff to assist you in choosing the right lighting for your home or business.