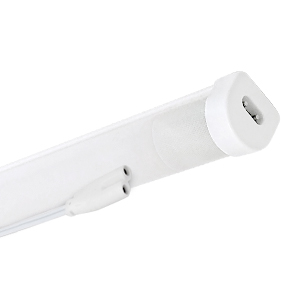 This new product provides an easy installation solution for wherever you have need for them. They come in sizes ranging from 21 to 45 inches, wattage from 9 to 18 watts, and can be linked together with an included adapter. When you buy this product, you get the light, mounting brackets, connector, and a power cord that connects into a standard wall outlet. When ordering, you can order an auxiliary multi-end power cord. The mounting bracket is screwed into place before the light is secured into the bracket. For uninstallation, use a screwdriver or your fingernails to pop the light out of the bracket. Through a separate purchase, you can choose to use a magnetic mounting bracket, allowing for easy usage on metal surfaces.
The lights can be chained together by inserting the connector into the end of the fixture before connecting the first fixture to the end of a second one.  Once you are at the end of a chain, insert a safety plug to ensure that accidents are less likely to occur.  The light emitted is in the 4,000 K to 5,000 K range, which results in a neutral white color. The 45" variant is 18 watt and can replace F40 or F32T8 lights. Additionally, this product has its driver built in, removing the need to hide a connected black box.
For connecting limitations, single-end power cords can support up to 150 watts. Multi-end power cords can support up to 250W. The formula for single-end is 150/wattage of the light. For the multi-end formula, it is 250/wattage of the light. The answer to the formula is how many lights you can have in a chain, rounded down.